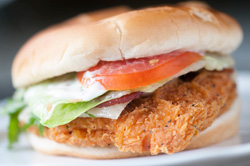 By Jason Rogers, Ph.D.
Recently, I was leaving the University of Kentucky, about to head back to my home in Cincinnati a mere 90 miles away. It was in the mid-afternoon and I had been on campus all day. Having been with the researchers in the Rodent Behavioral Core, I had no time to eat and water was not allowed in the facility. A complicating matter was the fact that I needed to get home as soon as possible to pick up the little one from school and get her to soccer practice. Needless to say, I was in a bit of a hurry and I was ravenously hungry. I didn't want to sit down to eat, I just wanted something on the go. We've all been there: close to the freeway on-ramp were several choices of the usual variety. I quickly made my decision ("Oh, new grilled chicken sandwich", I said predictably), rolled through the drive thru, picked an item from the pictures provided, and hit the freeway with my food in hand. Only when I unwrapped my package, what stared back at me was a sad excuse for the chicken sandwich I had ordered. On the menu, it was plump, juicy, full of ripe red tomatoes, crisp lettuce, and a hearty bun. What I held in my hand was a squashed bun, grease limply holding what used to be a chicken breast and some soggy lettuce. It had a dash of mayo and a puny tomato. Not exactly gourmet. It tasted the same as it looked. I was hungry, already in route, and out my sunk cost of lunch. But fool me once, shame on you.
To this day, I refuse to return. Fool me twice, shame on me. The moment at which I consumed my sandwich directly influenced my decisions of what to purchase in the future. I'm not alone in this example. It was sadly parodied in Michael Douglas-staring film, Falling Down, and recently demonstrated by CNN. It is in these moments, however, where we can understand consumer choice and its influence upon buying behavior.
You want people to choose your product. The world requires many choices and you want to win. Every time. Fast food, grocery store, internet providers, etc. But how do you win them over? Understanding that choice point is the first key to winning their business. But is that all there is to it? Of course not. Once you have them, you want to ensure to keep them coming back for more. This is the second key to ensuring a long term customer. But how do these two keys interact to unlock the consumers' hearts (and wallets)? The goal of the present article is to highlight some of the ways Noldus Consulting can help win at the three "Moments of Truth" (MOTs). First, I will present some existing findings into MOT research, then demonstrate how Noldus solutions, and our collaborators, can help you achieve new insights into customer behavior.