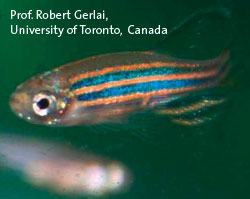 They may have just found the answer to this at the University of Toronto, Mississauga (Canada). Cheung et al. tried out a method using subcutaneous injection with dyes.
Clipping fins and adding tags
There have been many advances in methods and techniques for experiments with zebrafish, but identifying individuals seems like a difficult problem to tackle. You can't just tell from the pattern of their stripes like with zebras, so even the trained eye can't tell them apart. Many researchers use markings – clipping the fins in a specific way. It's a relatively easy method, but because these fins are mainly transparent, these markings are difficult to see. Moreover, clipping fins might interfere with the fish's swimming abilities, which poses a new problem, especially for behavioral studies.