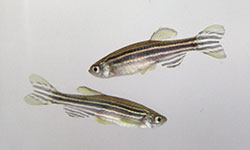 Often in animal research, animals with a certain genetic alteration are compared to a "wild-type" (this being the 'normal' rat, mouse, or zebrafish). One might assume that there is no difference between one wild-type animal and the next, but in fact, many different strains of wild-type animals are used.
Many wild-type zebrafish strains
The same is true for zebrafish. Many studies talk of wild-type animals, but the strain is not always mentioned. Furthermore, wild-type fish can be acquired at the pet shop, from a commercial scientific supplier, or simply caught in the wild. Vignet et al. noticed that there have been reports of differences in behavior between wild-type strains, and therefore they stress the importance of matching the most appropriate strain to the behavioral test.