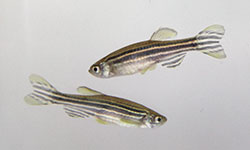 By Remy Manuel, Marnix Gorissen and Ruud van den Bos
(email: r.manuel@science.ru.nl, m.gorissen@science.ru.nl & r.vandenbos@science.ru.nl)

The zebrafish (Danio rerio) is increasingly being used as model in behavioural, neurobiological and genetic research. Underlying reasons are high genetic homology to humans and the many advantages over the use of rodents, such as low cost, easy handling, short reproduction cycle and high fecundity. Furthermore, its genome, transcriptome and proteome are well described, making the species a model of choice for behavioural research linked to genetics.

An emerging field addresses learning and memory related to anxiety and fear behaviour, which has been studied through inhibitory avoidance paradigms [1,2]. Assessment of inhibitory avoidance learning in zebrafish is based on the conflict between entering a dark area to avoid a brightly lit area (innate response; innate anxiety) and avoiding this dark area, as it has been associated with an electric shock as negative stimulus (conditioned fear avoidance). Higher latencies of entering the dark area following training are indicative of increased inhibitory avoidance learning.