Every year thousands of scientific meetings, events, and conferences are organized worldwide. While the academic world is constantly developing, attending conferences is a great way to stay up-to-date and in touch with the latest innovations and your fellow-peers. To make things easy for you we've sorted out some of the best (behavioral) neuroscience conferences in 2017 to attend.


The Ultimate List of Neuroscience Conferences in 2017
While combining work, knowledge, and social events can be the ideal combination the sheer number of conferences organized worldwide can be a little overwhelming. Which meetings should you add to your calendar, and where should you go? This extensive list of (behavioral) neuroscience conferences and meetings, sorted by region, might help you out!
Neuro-conferences in Europe
These conferences, focussing on brain development, Alzheimer's and Parkinson's, and other neuroscience related topics are organized in Europe in 2017:
2nd International Brain Stimulation Conference (March 5-8, 2017) in Barcelona, Spain Brain Development
Göttingen 2017 / 12th Gottingen meeting of the German Neuroscience Society (March 22-25, 2017) in Göttingen, Germany
19th International Neuroscience Winter Conference (March 26-30, 2017) in Sölden, Austria
AD/PD 2017: International Conference on Alzheimer's & Parkinson's (March 29-April 2, 2017) in Vienna, Austria
Berlin BRAIN and BRAIN PET 2017 (April 1-4, 2017) in Berlin, Germany
EPA 2017 - 25th European Congress of Psychiatry (April 1-4, 2017) in Florence, Italy
Programming and reprogramming the brain (April 3-4, 2017) in Munich, Germany
British Neuroscience Association (BNA) Festival of Neuroscience 2017 (April 10-13, 2017) in Birmingham, United Kingdom
IBANGS 2017 - 19th meeting of International Behavioural and Neural Genetics Society (May 16-18, 2017) in Madrid, Spain
ESOC 2017 - 3rd European Stroke Organisation Conference (May 16-18, 2017) in Prague, Czech Republic
NeuroFrance 2017 - 13e Colloque de la Société des Neurosciences (May 17-19, 2017) in Bordeaux, France
SPN 2017 - XV Meeting Sociedade Portuguesa de Neurociências (May 25-26, 2017) in Braga, Portugal
International Neuromodulation Society World Congress (May 27-June 1, 2017) in Edinburgh, Scotland Neurocience
European Neuro Convention (June 7-8, 2017) in London, United Kingdom
NeuPSIG 2017 - 6th International Congress on Neuropathic Pain (June 15-18, 2017) in Gothenberg, Sweden
Movement-2017: Brain, Body, Cognition (July 9-11, 2017) in Oxford, United Kingdom
Alzheimer's Association International Conference (July 16-20, 2017) in London, United Kingdom
EFIC 2017 - 10th Congress of the European Pain Federation (

Sept. 6-9, 2017

) in

Copenhagen, Denmark

EBBS 2017 - European Brain Behaviour Society (

September 8-11, 2017) in

Bilbao, Spain

17th National Congress of the Spanish Society of Neuroscience (SENC 2017) (September 27-30, 2017) in Alicante, Spain in Paris, France
27th Alzheimer Europe Conference (October 2-4, 2017) in Berlin, Germany
Alzheimer's disease and Dementia Conference (October 29-31, 2017) in Brussels, Belgium
Interested in video tracking? Find out for yourself how valuable video tracking can be!
Neuro-conferences North America
Plenty of conferences that are focussing on brain development, Alzheimer's and Parkinson's, and other neuroscience related topics are organized in the North America region in 2017:
Neuroscience in Intensive Care International Symposium (March 2-3, 2017) in Washington D.C., USA
Wiring the Brain (April 4-8, 2017) in Cold Spring Harbor, NY, USA
19th Annual Conference of the International Society for Bipolar Disorders (ISBD 2017) (May 4-7, 2017) in Washington D.C., USA
Annual Canadian Neuroscience Meeting (May 29-June 1, 2017) in Montreal, Canada
Neuroplasticity, Neuroregeneration, and Brain Repair (June 13-14, 2017) in New York, NY, USA
GRS: Parkinson's Disease (June 25-30, 2017) in Newry, ME, USA
14th World Congress on Neurology and Neurological Disorders (July 17-18, 2017) in Chicago, IL, USA
ZDM- 10th Annual Zebrafish Disease Models 2017 conference (August 5-8, 2017) in San Diego, CA, USA
Neuroscience 2017: Society for Neuroscience 2017 Annual Meeting (November 11-15, 2017) in Washington D.C., USA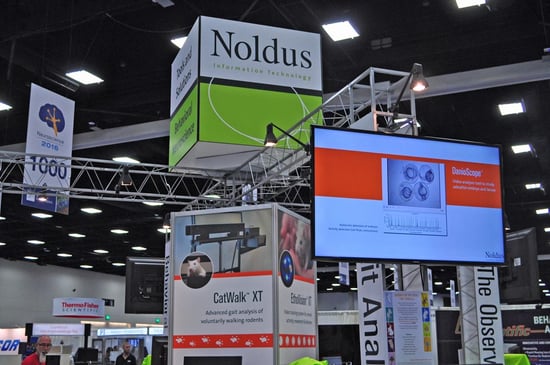 You can meet Noldus at the Annual Meeting of the Society for Neuroscience every year!
Neuro-conferences in Asia and Oceania
Asia and Australia are hosting several international world congresses on neuroscience and related topics this year:
The Morris water maze test is a behavioral task used to study spatial learning and memory in rats and mice. Download the white paper to learn more about how this versatile software platform works, and how it can complete your research!
Did we miss any conferences on (behavioral) neuroscience? And are any of these meetings on your 2017 calendar?
Want to know more about Noldus and neuroscience? Find out more at www.noldusneuroscience.com!
Please note: Noldus Information Technology is not responsible for organizing these conferences and events. More details on each event can be found by visiting the conference event websites.
---