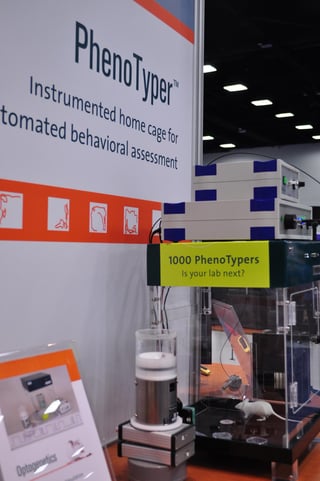 As a research tool manufacturer, we try to listen carefully to the scientific community when we create and refine our software and instruments.
Of course we want to make the best products, and we also want you to actually buy and use them. However, I am not in the research and development department, nor am I a sales person. I just like finding out and writing about research.

So for me this Neuroscience meeting is, like last year, a great way to discover what the neuroscience community is up to.
One of the things I admire about many labs is the desire to want to investigate something, and then the creativity to collect and even create what they need for their study.
Live from the Neuroscience 2016 exhibit hall: DIY research tools
We are seeing the neuroscience community embracing do-it-yourself projects, integrating systems like PhenoTyper with their own projects. So we try to make our tools accessible, for example, our video tracking software EthoVision XT is also a great integration platform. What this basically means is that it can register hardware events such as nose pokes and even control hardware such as the opening and closing of doors in a maze.

Yesterday Alexxai Kravitz (National Institutes of Health, Bethesda, MD, USA) stopped by in our booth to show us a feeding device his lab created. It deposits a pellet and then waits on depositing another one untill it registers the taking of the pellet by the rodent. This device is a great example of custom made add-ons, because it fits PhenoTyper perfectly and it also connects with EthoVision XT to register the feed intake.
Actually, I will let Alexxai do the talking himself:





If you are here, stop by our booth to say hi. If you're not, it might be fun to get a glimpse of what is going on with the videos we have posted on our YouTube channel:

https://www.youtube.com/watch?v=ThyXz58etIo

https://www.youtube.com/watch?v=yZXaaf5XOJM